This page, Nao Xiyou, is the sole property of The Dawn Angel.
Permission is required to reference, or modify this article in any manner with the exception of collaboration articles, whereas terms listed above are unserviceable..
Nao Xiyou
Kanji

猱西遊記

Alias

Sun Wukong

Characteristics

Race

Human

Gender

Female

Age

17

Height

172 cm (5'8")

Weight

50.9 kg

Birthday

May 17th, 1997

Hair Color

Blonde
Golden (Sun Wukong)

Eye Color

Green
Red (Sun Wukong)

Blood Type

AB

Professional Status

Affiliation

Herself

Occupation

Student
Hero (Vigilante)

Partner(s)
Base of Operations

Detroit, Michigan (Home)

Personal Status

Status

Active

Relative(s)

Yaochi Xiyou (Mother)

Mutation

Mutation
Weapons

Ruyi Jingu Bang

Image Gallery
"Hardwork and Determination reveal the true path of enlightenment."

Nao Xiyou (猱西遊記, Monkey on a Journey To The West)
Appearance
Edit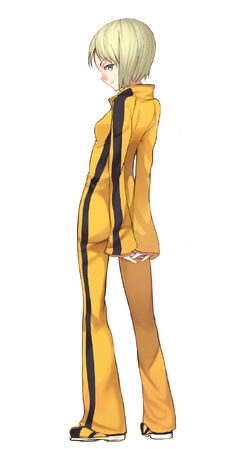 Personality
Edit
Equipment
Edit
Suozi Huangjin Jia
(鎖子黃金甲,
Golden Chain Mail
)
Ousibuyunlu (藕絲步雲履, Cloud-Stepping Boots):
Ruyi Jingu Bang (如意金箍棒, Magic Golden-Clasped Rod or Ideal Golden-bound Cudgel)
Powers and Abilities
Edit
Natural Abilities
Edit
Ways of Combat
Edit
Physical Prowess
Edit
Mystical Abilities
Edit
Enhanced Prowess
Edit
Nubikinesis
Edit
Behind The Scenes
Edit
Ad blocker interference detected!
Wikia is a free-to-use site that makes money from advertising. We have a modified experience for viewers using ad blockers

Wikia is not accessible if you've made further modifications. Remove the custom ad blocker rule(s) and the page will load as expected.